One evening at youth group, I saw my friend Janine knitting an eyeglasses case for felting. As I watched her knitting it reminded me of how much fun I had years ago when I knitted a pair of slippers. Those slippers were so comfy and I never did find out where they disappeared to. So I got this notion in my head to take up knitting again. The main benefit being I have a creative hobby that's portable and convenient. My feet are perpetually ice cold, so I decided to learn how to knit socks. It's actually not that hard and it goes pretty quickly. Even with three kids and practically zero free time I managed to knit up my first pair quickly enough. Here are my socks: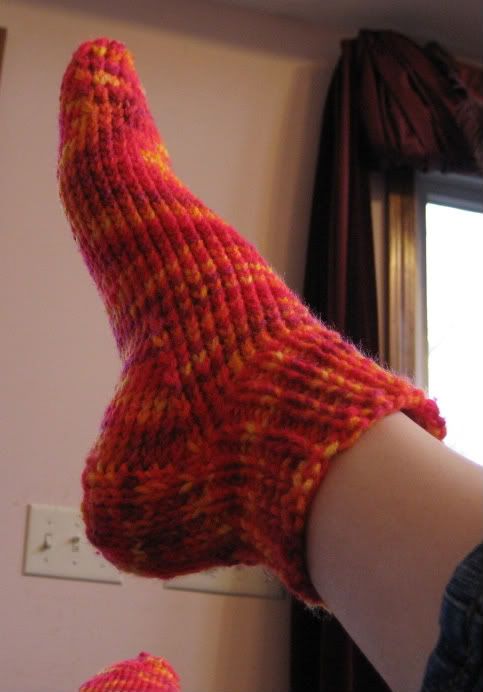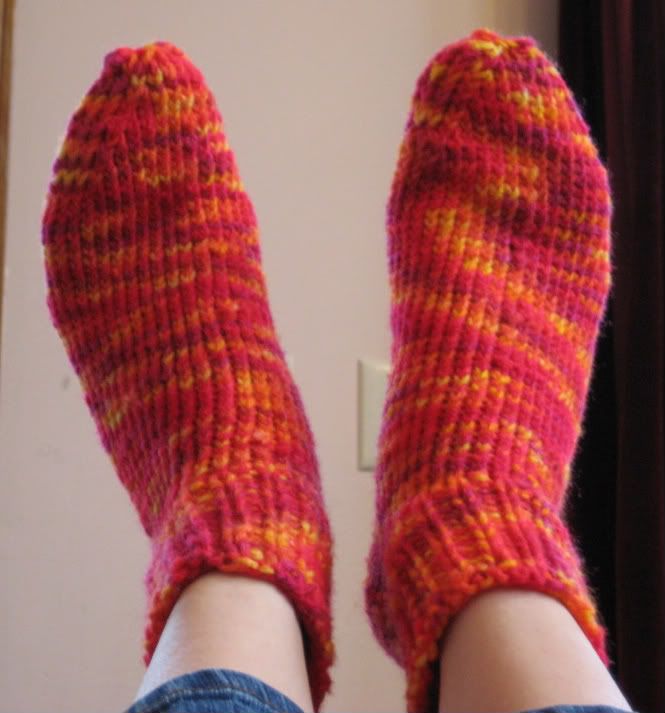 I love how the pattern is different on each sock due to the random effect of the color changes. The sock on the left has a sharper zig-zag, while the sock on the right has more of a gentle swirl going on. It's really cool.
I actually found knitting to be quite a stress relief. Since people seem to have nothing better to do lately than tick me off, I found this relief couldn't come at a better time. Although at times I found I had to back off my tension and unclench my teeth while knitting.
I think for my next pair I'll try a white-red-green Christmas yarn. I'll just do a regular worsted weight. Originally I was doing a boucle yarn slipper, but I found the boucle was impossible to work with as it kept snagging. I'm hoping it was just my inexperience and would like to try it again as it was such a soft and warm yarn.