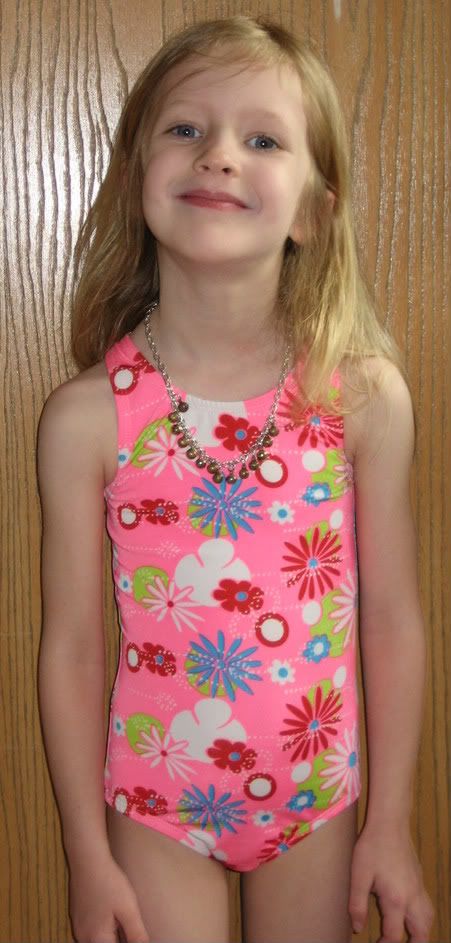 Well, here it is: my second swimsuit is finished. This one went a LOT faster than my first one. I had to get used to handling the swim fabric and I also had to learn to properly use wooly nylon in my serger and coverstitch machine. Normally, I never like my work. I always find some flaw and declare it to be "ruined". However, I
love
the swimsuits I did. Yeah, they have small flaws, but to me, they're perfect!
As you can see, my daughter is so happy in her swimsuit. For the first time since she was a baby she finally has a swimsuit that fits. My oldest daughter pictured on the left here is especially hard to fit when we go clothes shopping. Bathing suits are pretty much impossible to fit her properly. She is extremely tall and skinny so to get a suit that fits around her without being too loose, it ends up being too short. Then it ends up pulling really hard on her and the bodice ends up lower than it should, making it look really weird. The suit I made her fits her beautifully and she loves showing it off. She got to pick out her own fabric, which she's very proud of. To give you an idea of how tall and skinny she is, I altered Kwik Sew 2605 down to a size 2 and added 3 3/8" for the height. The pattern only went down to a size 4 so needless to say, a LOT of work went into resizing this pattern.
You can read my review of this pattern
here
at PatternReview. I included more photos in the review and more details about the pattern.
Bottom line: if you're planning on sewing a swimsuit, go with a Kwik Sew pattern. Don't even look at the rest. Kwik Sew patterns are great and the instructions can't be beat. Kwik Sew swimwear patterns especially get excellent reviews I've noticed. If you've been too scared to try swimsuit sewing, get up and start now! I was nervous as well, but it turned out great and I discovered I actually love to sew swimwear.
Now I'm off to sew up a swimsuit for my baby daughter and for myself!