Been ages since I've updated my blog. I have three kids and no "me time", so it's bound to happen. I just started homeschooling my oldest daughter, so that adds a lot more to my already overflowing plate. Seems like just when I manage to steal a moment for myself the phone rings or I get an email and it's back to work doing stuff for everyone else. Oh well, I suppose being overworked is better than being bored. Right?
So lately I've been super busy and when I do get to sew it's mostly been Halloween sewing. I got an early start since I'm swamped. I finished sewing my oldest daughter's Cinderella dress and here's a picture: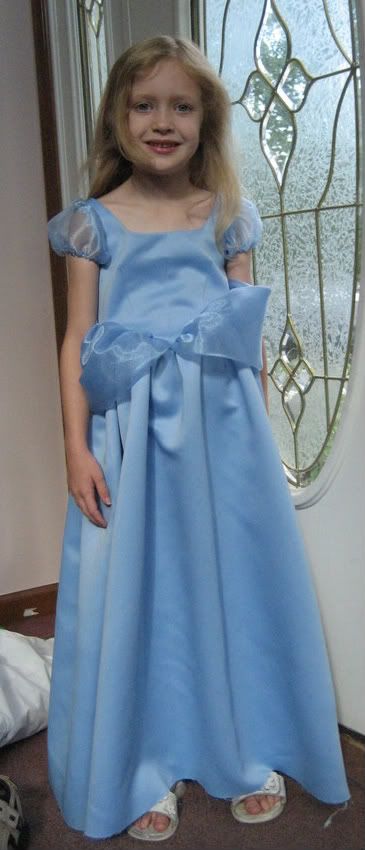 She's really happy with it and it was hard to get her to stop jumping all over the place in excitement to take her picture. Hence the one poof looking off-kilter. The bodice will need to come in a bit, but I'll hold off on doing that for now.
My current project is a nice dress for myself (yeah, I'm shocked too!) for a banquet I'm going to on Monday.
Wow, that is seriously a really bad picture. It's raining out and the indoor lighting wasn't the best and in my hurry to manage a quick picture before kids rebelled in mutiny I didn't have time to set up something nicer. Oh well. But you get the general idea. It's a gorgeous dress. It's not quite done yet but almost. I'm really happy with it. Getting the fit right was a nightmare but after two test garments I finally got the FBA (full bust alteration) correct. Also, brocade is mean to work with and likes to morph into random shapes whenever it feels like it. The collar was a real bear to work with, but it's all coming together. Can't wait to wear this dress. Gotta run!