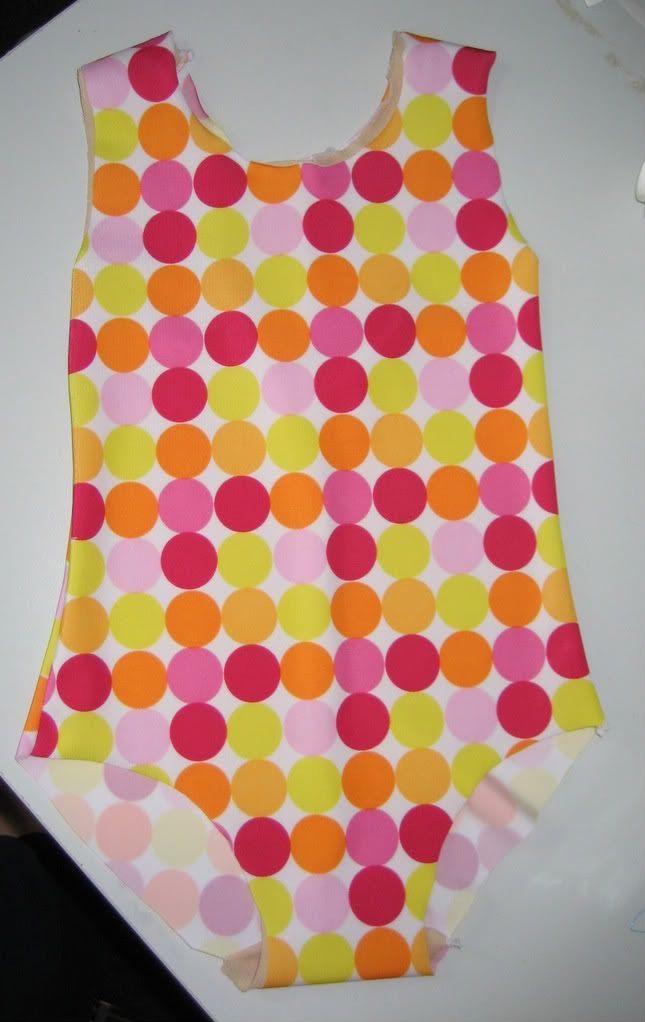 Well, here it is: my first bathing suit in progress. This is a swimsuit for my three-year-old daughter. She picked out the fabric herself after I showed her pictures of fabric from the
Spandex House
website. When she first picked it out I was thinking "yuck". But the print has actually started to grow on me. It's got a retro look to it, it's cute on her, and it's different from anything I've seen in the stores for little girls this year. What's the point of sewing if I don't sew original things?
I still need to add the elastic bands to the armholes, legholes, and neckline, then topstitch all of those areas. I have a Janome Coverpro 1000 coverstitch machine, so I'm covered there.
I have got to rave about my serger: a Viking Huskylock 910. I freaking LOVE this machine!! This is my first time using wooly nylon in both loopers and the left needle. It handled it beautifully and I didn't have to tweak the tensions much at all. Gorgeous stitching and it handled the fabrics beautifully. Way better than my former serger the Janome Compulock. A special thanks to my handsome husband for getting me this wonderful Huskylock serger.
The overall concept of sewing a bathing suit is simple yes, however, it is pretty difficult when you've never worked with lycra before. The stuff is slipping all over the place. Last night I thought I'd rather slam my face into a car door repeatedly than to be working with this stuff. I think once I get the hang of holding onto the fabric and keeping the raw edges lined up as I'm serging, then I'll be cranking out these suits quickly. I think I'll enjoy swimsuit sewing immensely once I get the hang of handling the swim fabric.