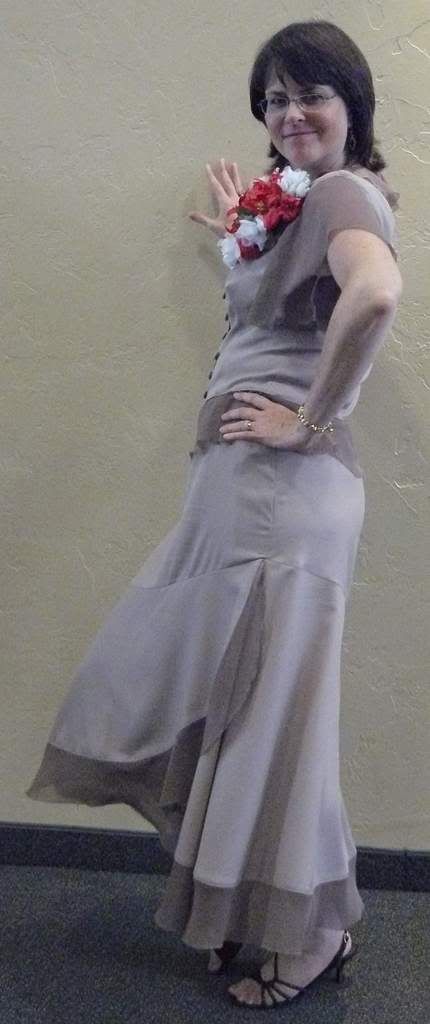 Well, that pose says it all! My friend Janine's dress was a success! I still can't believe I sewed it. I'm actually kinda numb from shock. I should have been jumping up and down for joy, but I would just stare dumbly at the dress and ask myself "I made that?" A lot of praying was involved in making this dress, so I certainly won't steal the credit here. Thank you, God! This picture of Janine is just too cute! Such a cute sassy look! And she looks absolutely beautiful in her dress.
This project was intimidating, but I learned so much from it. I got some experience working with chiffon, which I had never used before. I also got the chance to sew for someone else who has entirely different fitting issues from myself. Since I was panicking so much the whole time, I'm also not nearly as nervous anymore sewing dresses for myself. I've gained so much confidence from this project. Possibly more than I need considering I'm planning a majorly challenging project for Christmas. It's so much scarier to sew for someone else because you don't want them to be upset if things go wrong. Which, let's face it, they often do! Especially if I'm the one sewing. I know the disappointment I feel when my outfit is ruined, so I wouldn't want to do that to someone else, especially a great friend. Also, this dress was for a wedding
and
not just any ole wedding, but her son's wedding! Yikes! So I'm extremely grateful that things turned out great and Janine was happy.
At the wedding someone saw Janine in her dress and asked "So, you decided not to go with the dress your friend made?" To which Janine told her that she
was
wearing the dress I made. Needless to say, the lady was truly shocked I sewed that. So it was a great feeling.
It meant a lot to me to do this for Janine. She's done so much for me and probably doesn't even realize it, so I wanted to give something back.