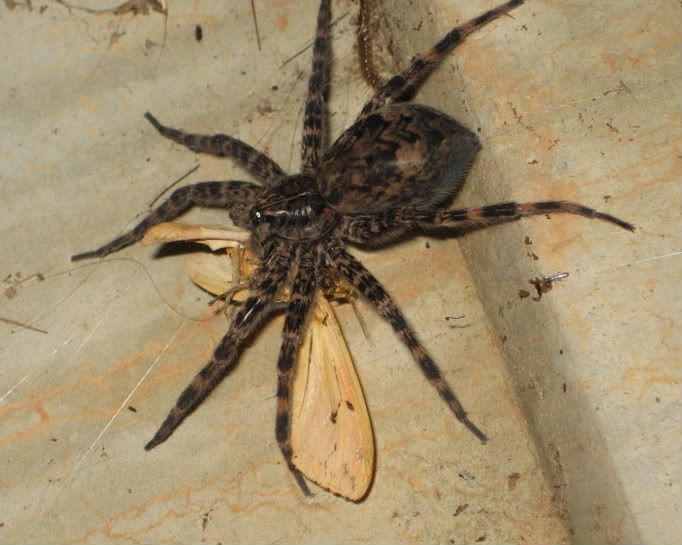 This is my new friend. He's kinda creepy actually. He's pretty big and gave me a surprise the first time I saw him just chillin' on my front porch. I was trying to get a close-up picture of him, but failed due to me being a big baby. I'm not at all squeamish about bugs, but after seeing how fast this spider moves, I had visions of it latching onto my face after annoying it with a flashing camera. It didn't help that when I was trying to take his picture,
I could see the glare from his eyes
. Yikes! So my husband was kind enough to get closer and get a closer picture for me. As you can see in the photo, our spider is currently consuming a large moth.
I was concerned that the spider may be poisonous so I looked it up and discovered that it's not. You can never be too careful with kids around. Especially since it lives on the front porch. Turns out it's a species (of which there are 100) of fishing spider. So I'll just let him live on the porch rent free. He seems happy hunting.
Also, I discovered a deer tick on my leg yesterday. Not cool. My daughter got Lyme disease from a deer tick and it was awful. She's fine and recovered now thankfully. So now I gotta keep an eye on my leg for the telltale bullseye rash. My yard scares me.